2 tags
4 tags
2 tags
Visualizing the Connectome →
by Neuroskeptic Last year, I blogged about a new and very pretty way of displaying the data about the human 'connectome' – the wiring between different parts of the brain. But there are many beautiful ways of visualizing the brain's connections, as neuroscientists Daniel Margulies and colleagues of Leipzig discuss in a colourful paper showcasing these techniques. Here, for example, are two ways...
5 tags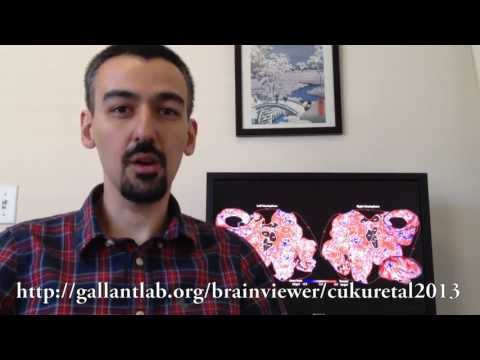 5 tags
Neuroscience: Mind-body Genomics →
neurosciencestuff: A new study from investigators at the Benson-Henry Institute for Mind/Body Medicine at Massachusetts General Hospital and Beth Israel Deaconess Medical Center finds that eliciting the relaxation response—a physiologic state of deep rest induced by practices such as meditation, yoga, deep breathing and prayer—produces immediate changes in the expression of genes involved in...
3 tags
Neuroscience: Paralyzed Patient Moves Prosthetic... →
neurosciencestuff: It sounds like science fiction, but researchers are gaining ground in developing mind-controlled robotic arms that could give people with paralysis or amputated limbs more independence. The technology, known as brain-computer (or brain-machine) interface, is in its infancy as far as human…
3 tags
Free Will →
by Deric Bownds Soon et al. identified a partial spatial and temporal overlap of choice-predictive signals with activity in the default mode network. The abstract: Unconscious neural activity has been repeatedly shown to precede and potentially even influence subsequent free decisions. However, to date, such findings have been mostly restricted to simple motor choices, and despite considerable...
3 tags
The Man With Uncrossed Eyes →
by Neuroskeptic "GB" is a 28 year old man with a curious condition: his optic nerves are in the wrong place. Most people have an optic chiasm, a crossroads where half of the signals from each eye cross over the midline, in such a way that each half of the brain gets information from one side of space. GB, however, was born with achiasma – the absence of this crossover. It's an extremely rare...
4 tags
Impersonating your younger self makes your body... →
by Deric Bownds An interesting article in the Harvard Magazine describes the life work of Ellen Langer, her demonstrations that our social self image (old versus young, for example) strongly patterns our actual vitality and physiology, her work on Mindfulness, unconscious processing, etc. I recommend that you read the article. Here are some clips from its beginning that hooked me (I actually did...
2 tags
3 tags
3 tags
Decisions – Conscious and Unconscious →
by Janet Kwazniak Previous experiments have looked at unconscious decision making. A new paper (citation below) confirms those experiments and adds more information. The authors are looking at the hypothesis that extrastriate and prefrontal neural regions are active during the encoding of decision information and continue to process that information during a subsequent distractor task. "It is...
4 tags
The Brain Basis of our Superiority Illusion →
by Deric Bownds One of the most robustly documented findings of psychology is the "optimism" bias, which leads us to put rose-colored glasses on past, future, and our own abilities. (Did you know that a spectacular 94% of college professors rate themselves to have teaching abilities that are above average?.) Equally well documented is the fact the people who have a fully realistic...
Human Astrocytes are Different →
by Janet Kwazniak Comparing human brains (and to a lesser extent all primate brains) to other animals like the mouse, we have many more, much bigger and much more complex astrocytes. Astrocytes have contributed to our larger brain by an order of magnitude more than neurons have. Astrocytes make contact and 'surround' synapses; one human astrocyte can encompasses 2 million synapses. They seem to...
4 tags
The mental cost of cognitive enhancement. →
by Deric Bownds There has been quite a bit of interest lately in the prospect of enhancing various brain operations by the use of trans-cranial electrical stimulation (TES). Iuculano and Kadosh make the fascinating observation that enhancing one activity with TES can compromise another: Noninvasive brain stimulation provides a potential tool for affecting brain functions in the typical and...
Mind-controlled exoskeleton to help disabled...
neurosciencestuff: Every year thousands of people in Europe are paralysed by a spinal cord injury. Many are young adults, facing the rest of their lives confined to a wheelchair. Although no medical cure currently exists, in the future they could be able to walk again thanks to a mind-controlled robotic exoskeleton being developed by EU-funded researchers. The system, based on innovative...
Oliver Sacks and the Amazing Twins →
If you haven't had a chance to read Oliver Sack's The Man Who Mistook His Wife for a Hat (which I highly recommend), here is a nice summary by George Johnson of one of the more interesting accounts: In Sacks's account, the twins — who were variously diagnosed as autistic, psychotic, or severely retarded — are said to have been able to perceive within minutes whether a 20-digit number...
5 tags
What is Involved in Causality? →
by Janet Kwazniak A recent paper looked at when the cause and effect of an event is identified: M. Rolfs, M. Dambacher, and P. Cavanagh; Visual Adaptation of the Perception of Causality; Current Biology, 2013. Here is the abstract: We easily recover the causal properties of visual events, enabling us to understand and predict changes in the physical world. We see a tennis racket hitting a ball...
6 tags
Mindfulness starts with the body: somatosensory... →
Here's a nice review by Kerr et al. of the current research on mindfulness meditation, primarily focusing on the somatosensory cortex and top-down control. Summary: Using a common set of mindfulness exercises, mindfulness based stress reduction (MBSR) and mindfulness based cognitive therapy (MBCT) have been shown to reduce distress in chronic pain and decrease risk of depression relapse....
3 tags
The Thalamus as Conductor →
by Janet Kwazniak We might think that the thalamus controls the input to the cortex and then is involved in consciousness, attention and working memory, but, it is the cortex alone that does the cognitive work. Not so fast. Two 2009 studies by M Sherman's group in Chicago (here) show that the thalamus stays involved. The first paper: One set of experiments, conducted by Brian Theyel and Daniel...
3 tags
Music and movement →
by Janet Kwazniak Mark Changizi has an interesting way of looking at things. The brain has functions and facilities that have evolved very long ago for the situations that an ape would need to deal with. He puts forward the idea that language and music adapted to what the brain can do, and not, that the brain adapted to do what was needed for language and music. This is a main idea in his...
4 tags
3 tags
Early musical training - sensitive period in brain... →
by Deric Bownds MindBlog has noted a number of studies that document beneficial effects of early music training on adult brain function. Now Steele and collaborators make observations that may partially explain why musicians such as Yo-Yo Ma, Oscar Peterson, and Pablo Casals, who all began training in early childhood before the age of 7 years, are so highly skilled. The authors examine the bundle...
3 tags
Is This How Memory Works? →
by Neuroskeptic We know quite a bit about how long-term memory is formed in the brain - it's all about strengthening of synaptic connections between neurons. But what about remembering something over the course of just a few seconds? Like how you (hopefully) still recall what that last sentence as about? Short-term memory is formed and lost far too quickly for it to be explained by any...
4 tags
How our brains judge risk and effort. →
by Deric Bownds Burke et al. do a nice piece of work showing that the risk of an option for action is encoded by the anterior insula and the effort required for that action is coded in mid-cingulate and supplementary motor area. If there is a need to do so, the frontal pole integrates effort and risk costs through functional coupling with the SMA and insula. Rewards in real life are rarely...
3 tags
Thoughts as material objects - impact on... →
by Deric Bownds It's hard to get rid of unwanted thoughts. What about just throwing them in the garbage like unwanted objects? In some conditions might we discard our thoughts as easily as we dispose of objects? If Mr. Descartes was right (straw man, I know), a thought cannot literally be thrown into the garbage, because it does not have a material or physical nature. If a component of our...
3 tags
A retrospective editing of consciousness →
by vaughanbell A new study has found that conscious experience can be altered retrospectively, so that experience of visual information can be changed almost half a second later by manipulating where our attention is drawn. The research, led by cognitive scientist Claire Sergent, involved asking people to stare at a centre point of a screen with two empty circles either side. At some point,...
6 tags
4 tags
When the Mind Wanders, Happiness Also Strays →
by John Tierney, submitted by somethinglefttosave Using an iPhone app called trackyourhappiness, psychologists at Harvard contacted people around the world at random intervals to ask how they were feeling, what they were doing and what they were thinking. The least surprising finding, based on a quarter-million responses from more than 2,200 people, was that the happiest people in the world...
4 tags
Mindfulness neuroscience →
by Deric Bownds The journal Social Cognitive and Affective Neuroscience has released an issue devoted to studies of brain correlates of different kinds of meditation. One article, on compassion or loving-kindness meditation, is open access. For me, the crucial article is the last one, written by a senior guru of the brain imaging field, Michael Posner, and his colleague Yi-Yuan Tang, outlining...
1 tag
3 tags
DSM-5: A Ruse By Any Other Name... →
by Neuroskeptic In psychiatry, "a rose is a rose is a rose" as Gertrude Stein put it. That's according to an editorial in theAmerican Journal of Psychiatry called: The Initial Field Trials of DSM-5: New Blooms and Old Thorns. Like the authors, I was searching for some petal-based puns to start this piece off, but then I found this "flower with an uncanny resemblance to a...
2 tags
5 tags
The power of concentration →
by Deric Bownds I've been meaning to pass on this review by Konnikova on the salutary effects of mindfulness and concentration. It pulls together a number of observations that I have noted in previous MindBlog posts. Here are a few clips: …mindfulness is less about spirituality and more about concentration: the ability to quiet your mind, focus your attention on the present, and...
6 tags
2 tags
5 tags
Music and movement: shared dynamic structure in... →
by Deric Bownds Sievers et al. do a fascinating analysis. They designed an ingenious computer program that used slider bars to adjust a music player or a bouncing ball with varying rate, jitter (regularity of rate), direction, step size, and dissonance/visual spikiness. Participants were instructed to take as much time as needed to set the sliders in the program to express five emotions:...
4 tags
Body resonance and art appreciation →
by Deric Bownds Leder et al. have asked how hand movements reflected two styles of painting having similar content and historic period might interact with muscle movements in the viewer to influence their appreciation of the painting. Their introduction gives a bit of context for the work:  The question of how art creates aesthetic pleasure has puzzled researchers since the early days of...
5 tags
4 tags
Video games give kids dementia? →
I thought I'd post this in response to the messages I've received about video games and the brain (if you have sent me something and I haven't responded I will get to them ASAP). by Bradley Voyte PANIC. As Vaughan Bell over at mindhacks has repeatedly noted, Baroness Greenfield of Oxford likes to turn to the press to talk about how video games, the internet, and other...
3 tags
Attention is not a simple thing →
by Janet Kwasniak A recent paper (citation below) by a Canadian group led by J. Kam has looked at the effects of mind wandering on motor adjustments during a task. Among other interesting results, they indicate that the top-down control of attention is complex and not a single process. Nothing is ever as simple as it first appears. In their conclusions, they write: In particular, mind wandering...
7 tags
5 tags
5 tags
Unconscious reading and arithmetic. →
by Deric Bownds Here is a fascinating bit from Sklar et al.:  The modal view in the cognitive and neural sciences holds that consciousness is necessary for abstract, symbolic, and rule-following computations. Hence, semantic processing of multiple-word expressions, and performing of abstract mathematical computations, are widely believed to require consciousness. We report a series of...
5 tags
BBC Column: when you want what you don't like →
by Tom Stafford My BBC Future column from Tuesday. The original is here. It's a Christmas theme folks, but hopefully I cover an interesting research area too: Berridge, Robinson and colleagues' work on the wanting/liking distinction. As the holiday season approaches, Tom Stafford looks at festive overindulgence, and explains how our minds tell us we want something even if we may not like it. ...
7 tags